Cooperative Educational Services (CES) is using their bear mascot to welcome students and create a climate where it means something special to be part of the bear community. The welcome banner reads "Congratulations, you are now a bear with bear friends, and are part of our bear community. We have bear rules and a bear way of doing things. So when it comes tome to make a decision, ask yourself, "What would a bear do?" Then you'll make a good choice, get good results and enjoy a good time. So put on your best bear smile, because every day is a great day to be a bear!"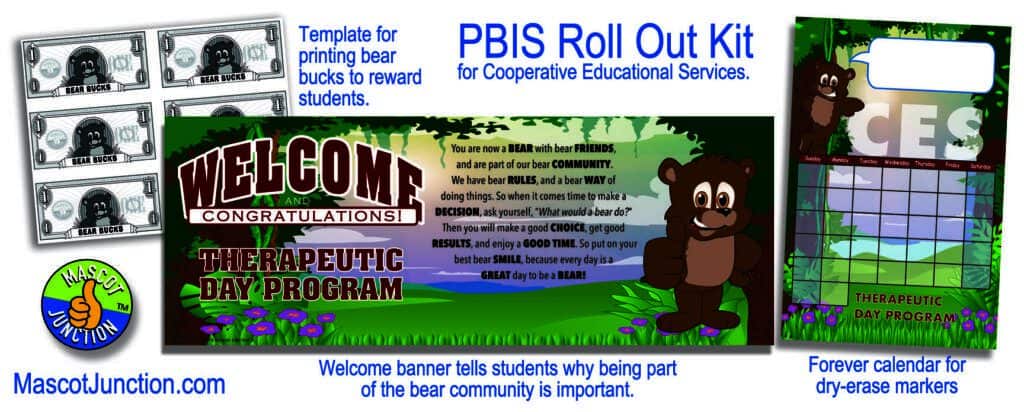 The welcome banner is only part of the school's positive behavior support program. Each class room has it's own "Forever Calendar." These calendars are use with dry-erase markers so they can be used forever. Each calendar features the bear mascot with a cartoon voice bubble, so the bear mascot can deliver a fresh message to the classroom every day. CES also used bear bucks to reward students for demonstrating positive behavior.
The bear buck gotcha rewards template is part of a customized PBIS Roll Out Kit from Mascot Junction. These kits can include posters, banners, calendars, gotcha rewards, t-shirts, clip art and even a mascot costume. Mascot Junction has 60 mascots in their massive clip art image library. Each mascot comes with their own clip art sets which include 80 illustrations of the mascot demonstrating positive behavior and participating in school related activities.
Save
Save