Our "mascot-centric" approach to school climate and culture transformation was a big hit at the APBS Conference in Denver last week. Educators were quick to embrace the idea that school mascots can be used as a role model to teach positive behavior, and help create very fertile ground for PBIS programs.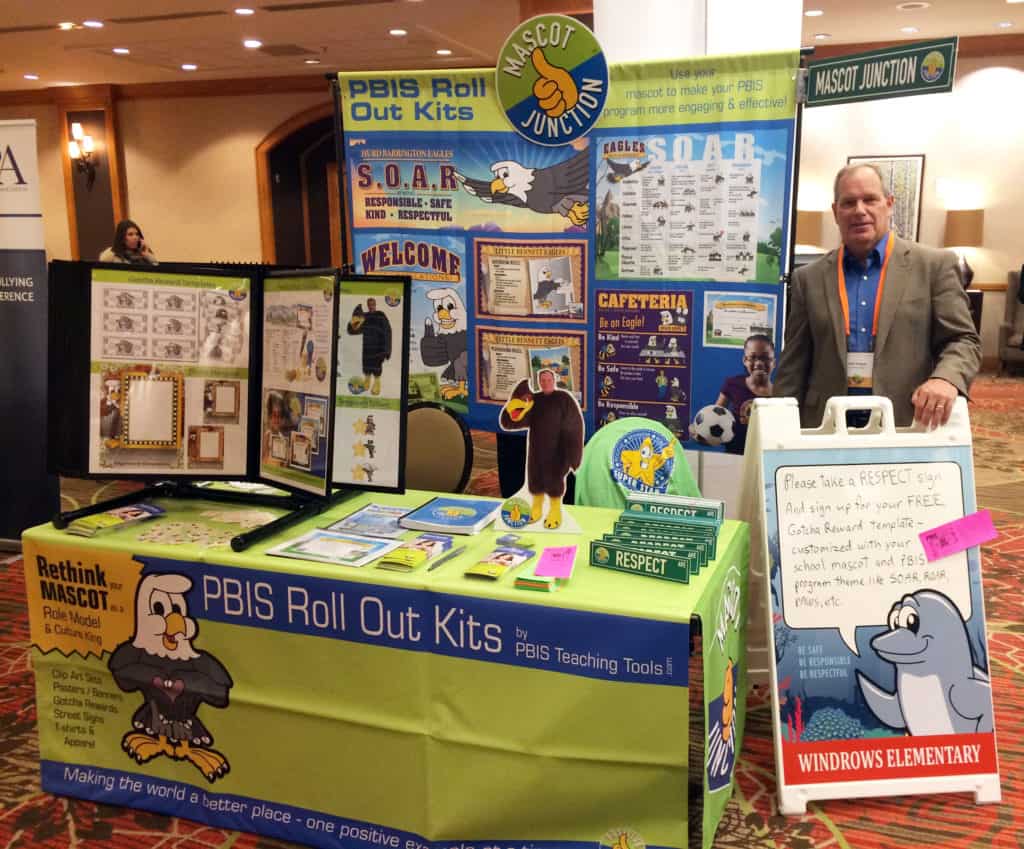 Dave Thompson, President of Mascot Junction explained, "It means something very special to a young child when you tell them 'congratulations, you are now an eagle (or whatever your mascot is), and you have eagle friends. You are part of an eagle community and we have eagle rules, and an eagle way of doing things. So when it comes time to make a decision, just thing of what an eagle would do, and you'll make a good decision, get good results, and have a good time.'"
Thompson knows what he's talking about. As the owner of an advertising agency for 20 years, who once worked on the M&M characters for Mars Candy, he knows how powerful of a communication tool a mascot can be. In fact, it was his experience with brand mascots that lead him to develop a large line of kid-friendly schools mascots for elementary schools.
Thompson explained the psychology behind a mascot-centric school climate. "The emotional incentives for a child to enjoy social success within the group they self-identify with is incredibly powerful. We're all hard-wired for it. We want friends, and to be accepted. And the instant a child utters the words 'I am an eagle,' a part of their self-image is changed; and it is human nature to act consistently with one's self-image. If you consider yourself an eagle, and you know how an eagle is expected to behave, and you are surrounded by visual examples of how eagles are respectful, responsible, safe or whatever, you will tend to gravitate towards that behavior. In essence, when you control the eagle, you control the child – to a great extent. And in a mascot-centric school climate, the educators absolutely control the eagle. We give schools all the tools they need to use the mascot as a role model: posters, banners, clip art sets and much more."
Thompson also used his "bag of tricks" analogy to explain how PBIS works. "When a child walks into school, they carry with them, their bag of tricks. It's what they use to make decisions. For young children, they are typically few tricks in the bag, and unfortunately many of those 'tricks' were picked up in the wrong places. PBIS is all about pre-loading the child's bag of tricks with 'things that work and deliver positive results.' When a child needs to make a decision, they reach into their bag of tricks and usually pull something off the top – whatever is top-of-mind for them. If being an eagle is a big part of their daily life, they're likely to try an eagle trick – something they've learned in school. And when they get a good result, they're rewarded with social success, and will continue to use it. As Dr. Phis says, 'People do what works.'"
A mascot-centric school climate is very visual, engaging and fun. By giving students eagle rules, you are giving them a road map for success, and delivering that road map in a way that is very easy to understand and relate to. The bottom line is that we all need to stop thinking of school mascots as affable characters dedicated to drumming up school spirit, and start thinking of them as a powerful marketing tool for reaching and teaching.