We create matrix posters featuring illustrations of your mascot demonstrating positive behavior. We can also use illustrations of children. All matrix posters are customized with your words, your colors and your mascot/logo. Download free editable templates at the bottom of this page. Matrix banners and signs also available. See samples of matrix posters featuring your school mascot by first, finding your mascot.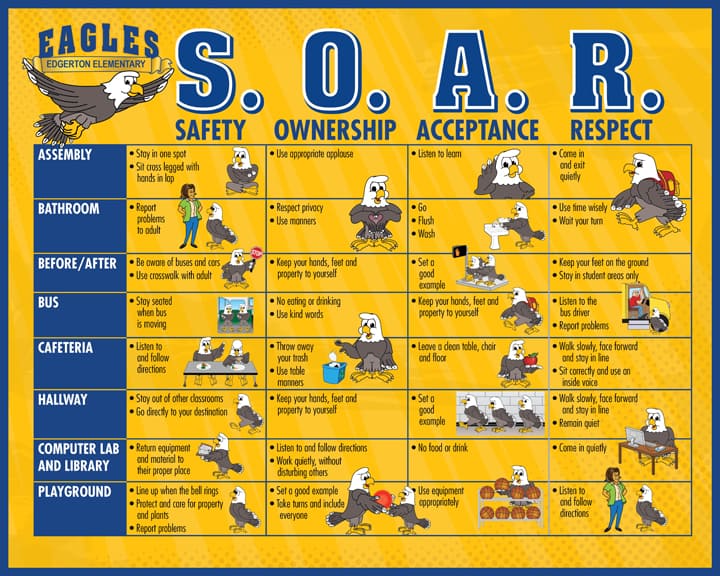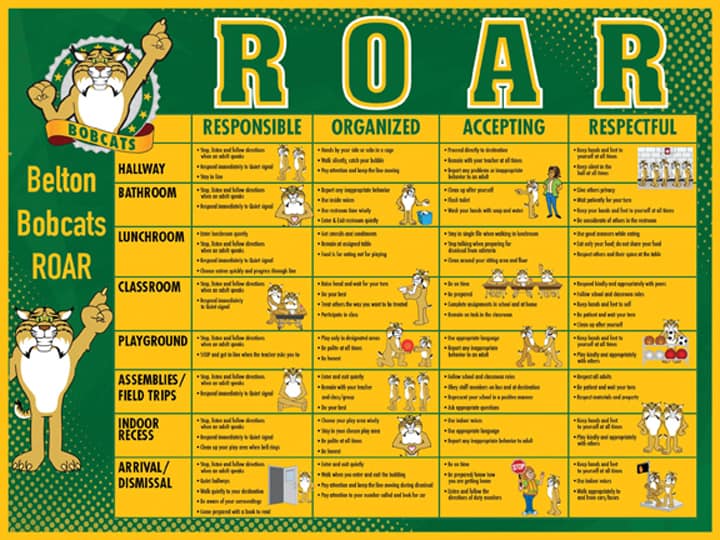 The matrix poster templates provided are professionally written to be very concise and instructive. We tried to limit the number of bullet points in each box of the matrix to three so students will not have as much to learn and recall. Each bullet point begins with a verb, telling the student what is expected and creating an actionable vision. When we customize the matrix for your school, we use "role model" illustrations to bring these actions to life. Role models illustrations can be of either your school mascot, children (for elementary schools) or teenagers (for middle and high schools). By using the mascot as a role model, students are given a visual example of the behavioral expectation without reading one word. This is very helpful for students that don't read, or don't read well. A picture is worth a thousand words, and a picture of your mascot demonstrating positive behavior is worth even more.
All matrix posters are customized per your instructions, and include your school name, colors, logo and mascot. We are glad to work with your logo or mascot, but role model illustrations come from our library of more than 30,000 clipart illustrations. While we can customize some of our mascots with different colors, and even adding a shirt with a logo, our ability do this is limited to "our" more popular kid-friendly mascots. Custom colors and t-shirts are available on our big cat mascots, like our panther, lion, tiger, etc.