Selfie Frame Celebration Set - Includes 5 two-sided frames featuring 10 designs, along with 5 Photo Bombie (mascot heads). Features our kid-friendly version of your mascot. No customization on this product.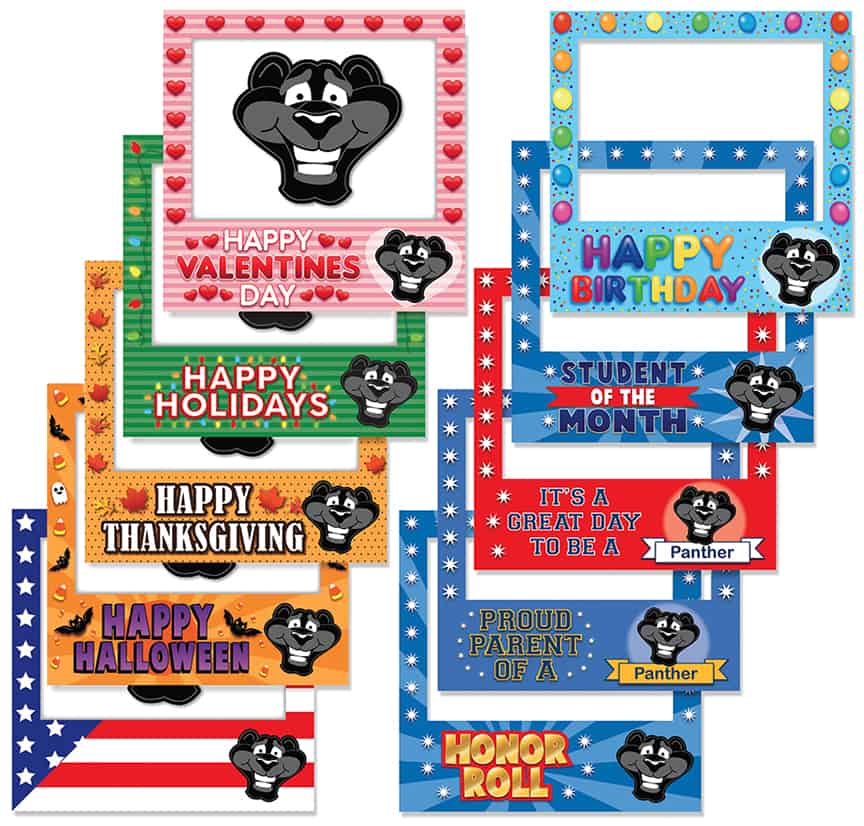 PBIS Selfie Frame Set - We customize these frames with your PBIS Acronym (SOAR, ROAR, PAWS, etc.) and your specific positive behaviors. Includes 5 two-sided frames featuring 10 designs, as well as 5 Photo Bombie (mascot heads). Features your mascot/logo and school colors.
Custom individual frames are available, although you'll get a better value buying one of our customizable sets.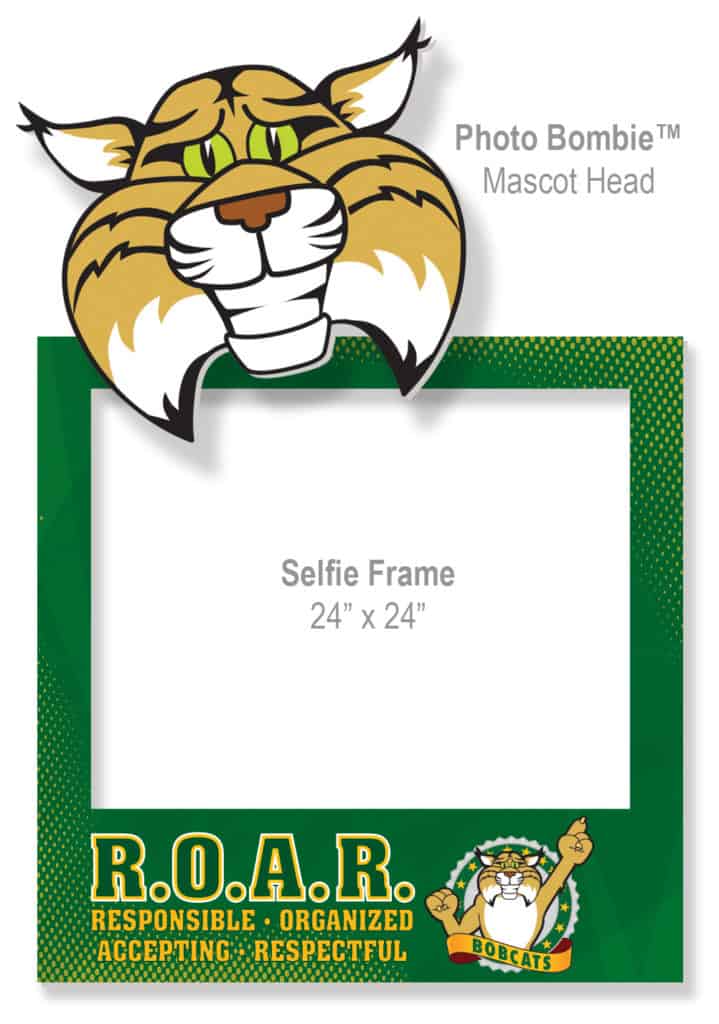 Photo Bombies are a great way to make your school inclusive and create a sense of community around your mascot.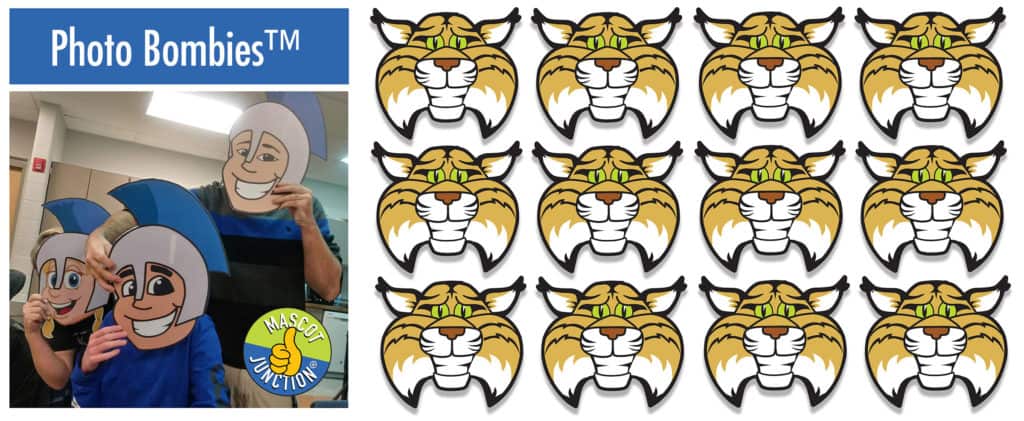 You get 5 Photo Bombies when you purchase one of our Selfie Frame Sets, or you can buy them separately, by the dozen. Each is slightly larger than the size of a human head, and printed on durable corrugated plastic.
How to use Photo Bombies
We asked educators how THEY'D use Bombies, and here are the best responses:
I'd hide the photo Bombie in a photo from each class for their yearbook page and turn the yearbook into a "find the Bombie" book.
It would be so fun to use Photo Bombies during our family night events! He could just "pop" up in photos unexpectedly!
We could use them to publish pictures of students that are not able to be photographed.
Photo Bombies could be used for creating PBIS videos around the school.
We have many school wide events and almost always offer a photo station so these would be a great addition to any of these events.
Friday shout-outs for students that show example of upholding the school values.
During sporting events or school functions to get pictures out.
I would like to use Photo Bombies as a part of our Family Engagement Nights and PBIS rewards. For Family Engagement Nights, we could have a Selfie Station for families to stop and take selfies with their children. Many of them include group dances and activities that could include a selfie station. This would be awesome for Teacher Appreciation as well.
We want to include more photos of our students doing the right thing. Using these will give students more excitement for WANTING to be a leader and demonstrate character at our school.
Our main fundraiser is seasonal dances. We try to set up a photo booth, take pictures and print them for students for $1.00 each. This would be so cool to have as a prop for those dances and for the student of the month. Our kids really take ownership of our Mascot Junction merchandise. They are so proud of it!
I would love to have our Photo Bombie go out into the community and show how he is following our PBIS expectations in the community. I would also love to have the Photo Bombie go with our kids that go on vacation to be in their photos to document their travels so the student can report back on the places they visited.
For our Principal Awards, have the student and Principal take their photo with the Photo Bombie popping up behind them.
Photo Bombies would be great for the photo booth at the Open House at the beginning of the year! Or at any group function.
Have students use the Photo Bombie when creating student videos.
Hide the Photo Bombie and create a scavenger hunt for students.
Each month we have PBIS assemblies to celebrate positive behaviors as well as have an awesome presentation on the student of the month winners. Right now we just take a basic picture in our media center, but it would be AWESOME to have the photo Bombie for our students to get their picture taken in!
We will use the photo Bombie like the "elf on the shelf" concept to make surprise visits to classrooms that are exemplifying our school behavior expectations.
One awesome way we could use the Photo Bombies for is to take students pictures with them, print the picture and add it to the student's scrapbook that our teachers make for each child and send home the Friday before Mother's Day. We take pictures monthly of students throughout the year but adding these frames would be super fun and neat.
We would frame our Student of the Month for our character education theme of the month. Their pictures are posted down the hallways. We would use it for all kinds of Facebook and Twitter pictures - especially our newsletter!
We would use our photo Bombies for the mother or special someone and son event, the father or special someone and daughter event, community reading day, spree day, portfolio night, Watch DOGS (dads of great students) pizza night, math facts award celebrations, etc.
We have several of your products and would love to use these during honor roll, PBIS celebrations, and as rewards in classrooms. We post a lot of pictures of our cardinals throughout the school day on facebook. I think this would be a great addition to our normal picture posts. I would even love parents to take selfies with them on parent nights. After all, they are Cardinals too!
We have an awesome character education program where are students are given capes for being Super Students representing our three themes of Friendship, Leadership and Community. We have cape ceremonies once a month and these selfie portraits would be awesome to showcase these kiddos!
These would be a wonderful asset to our back-to-school night, literacy nights, student of the month recognition, principal positivity rewards, birthdays, and any other type of activity that we have going on at school that would promote positivity and improve culture.
We would use Photo Bombies to celebrate and recognize students as part of our school wide positive behavior support initiative, include Student of the Month (one student from each grade level selected at the end of each month), the Good Call of the Daily (one student per day that receives a positive phone call home), perfect attendance awards, honor roll, and progress on state assessments.
We would use them to highlight students and or staff members of the week on our morning news broadcast in the 5th grade. We are also looking for some fun ideas to address kindness and respect on campus; one idea would be a scavenger hunt, or perhaps given we win these. Spot the Cheetah Mascot Game! Kids would look for them on campus and doing certain types of kindness acts to interact with.
We have just started making things more digital and venturing out into Social Media. I think this would be something the students would LOVE and we could use to post on our website, Facebook page and Twitter.
There are so many ideas for these! Our teachers give out Positive Office Referrals to students that exhibit good behavior and these would be great to use when the students get their picture taken! These would also be great for Grandparent's Day and to use for our V.I.P. Breakfasts put on by our PTSA. These would also come in handy for a photo booth at the Open House at the beginning of the year!
Overall List of Ideas:
First Day of School - Welcome!
Last day of school
100th day of school
Student of the month
Open house (Welcome to Kindergarten, etc.)
Wonderful Wednesday Student (based on character trait of the month)
Teacher/Staff
Welcome Night!
Reading Night
Back to School events
Carnivals
Fundraisers
Lunch Monitor or library helper recognition
Big and little buddy class pairs
Mug shot caught doing something good/correct
Pizza with admin
Genius of the week - math contest winner
Parent/volunteer of the week
Community Champion
Environmental Steward
Perfect Attendance awards
Students who meet their projected growth goals on an NWEA MAP assessment
Reading Goals
Caught showing Respect-Responsibility-Safety
Exemplar Behavior Selfies
Superintendent visits
Eat out nights
STEM night
Bingo night
Jog A Thon
Movie Night
High Five winners
Talent Show
Fall Festival
Spring carnivals
DARE
Spelling Bees
Field Days
Dances
Christmas Sing-A-Long
County professional development
Team building
Club photos
Yearbook
New students
Evening events
Photo contests
Newspaper articles
Homecoming
Senior Night
Happy Mardi Gras
Perfect Attendance
Honor Roll
Top Scorer
Growth is our Superpower
Student Positive Behavior Wall
Pep Rallies
Student of the Month
K.I.S.S. (Kids invite Someone Special)- Valentine's Day
Lunch with Your Loved One
Bring your Parent to School Day
Muffins in the Morning
Teacher of the month
Cafeteria helper highlight
After school care champion
Students who meet their goals
Staff using PBIS
Class of 20__
Caught being a good example
Caught leading by example