Temporary tattoos are a great way to reward positive behavior. Let students use their gotcha rewards to buy them in the school store, or just hand them out to make every student feel like part of the community. Mascot Junction temporary tattoos feature your school mascot leaning against a big star.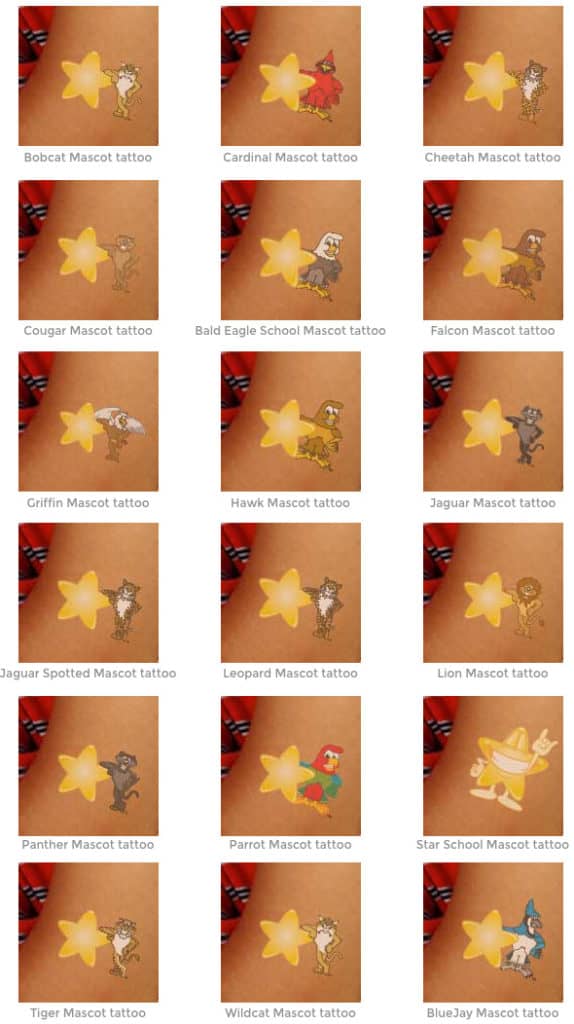 Save
Save
Our temporary tattoos are quickly applied with water, and stay on for 3-to-5 days, even thru showering and swimming – but they are easily removed with baby oil or rubbing alcohol.
All of our tattoos are manufactured in the U.S.A. and meet, or exceed, all testing for the U.S., EU & Canada, including requirements for the Food and Drug Administration (FDA), Consumer Product Safety Commission (CPSC), and American Society for Safety and Testing Materials (ASTM).
Standard size is 1.5" x 1.5". Choose from more than 70 mascots or have us custom design a tattoo using your mascot, or whatever you want. To order, call 816-916-1377. We take Purchase Orders and/or charge cards for your convenience.
Save