Make awards fast and easy.
These Powerpoint templates include an array of pre-designed certificates that are easy to customize and print. Each certificate features a different illustration of your mascot related to the award. Powerpoint templates are easy to edit with the student's name.
Save
Save
Save
Save
Save

Behaviors Set:
Acceptance
Caring
Character
Citizenship
Fairness
Honesty
Integrity
Leadership
Loyalty
Organization
Perseverance
Respect
Responsibility
Safety
Sportsmanship
Trustworthiness
Sidewalk Safety
Playground
Library
Hallway
Classroom
Cafeteria
Knowing The Rules
Standard Set:
Student of the Month
Student of the Week
Perfect Attendance
Honor Roll
Principal's Honor Roll
Baseball
Basketball
Hockey
Football
Soccer
Art
Computer Lab
Ecology
English
Gym
History
Math
Music
Social Studies
Science
Extra clip art included to customize awards!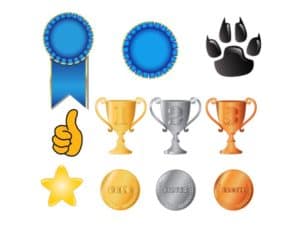 We teach students to think "What would a Bobcat do?" when making decisions, so they turn to the ROAR framework created in our PBIS program, so it only makes sense to feature the Bobcat on award certificates. Whether your mascot is an eagle that SOARs, or a bulldog with PAWS, our award certificates help you tie everything together in a more memorable and engaging way.