Make it mean something special to be part of your school's sandpiper community. Here you'll find everything you need to create a healthy learning climate in your school using your sandpiper mascot as a role model for positive behavior.
Clip Art
The STANDARD Clip Art Set for the sandpiper features 40 illustrations of the sandpiper doing school related activities. These images are great for yearbook design, bulletins, worksheets, newsletters, Web sites and all types of school communications. You get both high resolution (vector) and low resolution (png) versions of each clipart image. If you need a custom illustration of the sandpiper, we're glad to oblige.
Behavior Clip Art is designed to teach positive behavior and reinforce character trait education programs.
Rewards
Posters
Make it mean something special to be part of your school's sandpiper community. Teach students how to make good decisions by asking themselves what a sandpiper would do. It's all part of our mascot-centered approach to creating a positive school climate.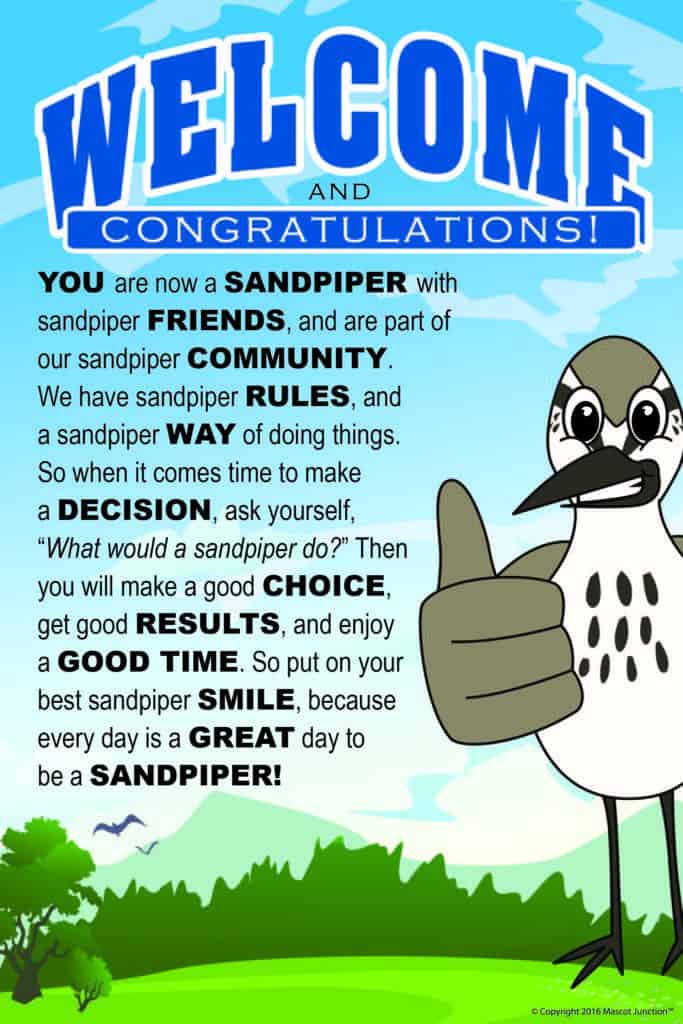 Matrix
Use our matrix template to get started with your PBIS program. Click the matrix (below) to download the editable word document. Customize it with your own expectations, then send it back to us, and we'll bring it to life with engaging illustrations of your mascot visual demonstrating the behaviors.
Banners

Wallets
Teach students how to be responsible with money, and learn organizational skills with a Gotcha Reward Wallet Pack. Each Pack includes three wallet designs, and five gotcha reward (mascot money) templates - one for each of the denominations: $1, $5, $10, $20 and $50. Wallets and dollar bills feature your school mascot, and are set up for convenient printing on letter-sized sheets of paper. The wallets are designed to be colored and customized. The student writes their name in a space on the outside of the wallet. On the inside, there is room for them to fill out an identity card with information like their address and phone number. Six charge card spaces are allotted for writing in the behaviors of your school's PBIS program, and/or your PBIS theme or motto.

T-Shirts
Great prices on top quality t-shirts
Catalog
Save